National Alliance on Mental Illness

page printed from
NAMI Evansville
Welcome to NAMI Evansville, Indiana!
Education, support, advocacy and research – about mental illness, that's our agenda. 
NAMI Evansville offers education and support resources for family members, relatives, friends and consumers.  We advocate for those afflicted with severe brain disorders, including, but not limited to schizophrenia, bipolar disorder, schizo-affective disorder, major depression, panic and other anxiety disorders, borderline personality disorder and ADD/ADHD. Treatment strategies including medications can bring hope and balance into the lives of persons dealing with serious mental illness and their families. 
For additional information contact our Affiliate Leader, Larry Back, at 812-897-1694 or you can e-mail him at lgback@usi.edu.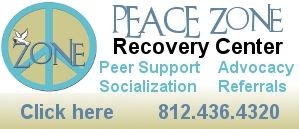 All images and content Copyright © 2010 by NAMI Evansville and NAMI National and may not be used without written permission.
Web Counter by TrafficFile.com